Insects feed on grass causing damage to the lawn. The best way to prevent damage is to get treatment before the insects feed on the lawn. If insects are already feeding on your lawn, bioLawn can make corrective applications that will stop the feeding and reduce damage.
Grub Control to Prevent and Stop Damage


Grubs feed on the roots of the lawn, causing the grass to die. As feeding progresses, the size of dead patches expands. Animals, such as skunks, will dig up lawns to eat the grubs, which causes additional lawn damage. Grubs feed between April – June and Late July – October in Minnesota.
Grub Prevention
Preventative grub control is applied May – July. This controls grubs as they hatch and prevents lawn damage. At bioLawn, we use unique no-signal word insecticide with low toxicity to treat grubs.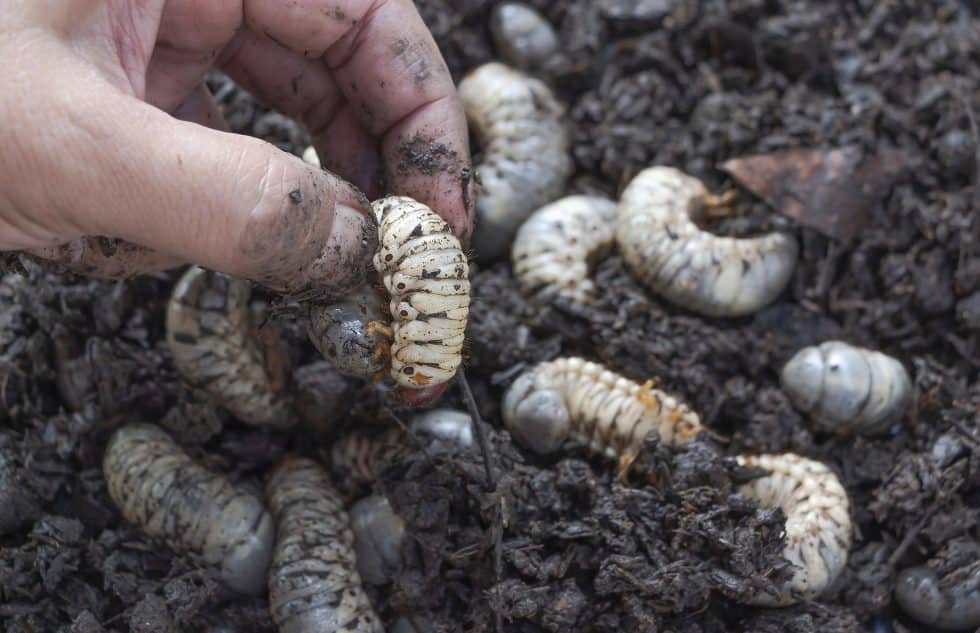 Curative Grub Control 
Curative grub control is applied in April – June or Late July – October to kill actively damaging grubs. Curative treatment is often needed when a preventative grub control has not been used.

Our Lawn Insect Program targets surface feeding and nuisance insects in the lawn. This treatment is NOT effective against grubs or other insects located in the soil. The Lawn Insect Program involves four treatments throughout the season to target specific insects that cause damage to the lawn or are a nuisance in the lawn.
The four applications are spaced throughout the year when activity is highest. Typically early spring through early fall. Below are the most common insects treated in the Lawn Insect Program.
Ants do not cause direct damage to the lawn, but their mounds and tunnels can be a nuisance in the lawn. Larger colonies also thin out the grass reducing the lawns appearance.
Ticks do not cause direct damage to the lawn, but can carry diseases making them a problem when they get on pets, children and adults.
Sod webworms feed on the leaf tissue of the grass. This weakens the grass making it more susceptible to other stresses and diseases. Large populations can cause substantial damage to lawns just from feeding.
Fall armyworm, like sod webworms, feed on the lawn damaging the grass.
Although not a common problem in Minnesota, chinch bugs suck plant tissues, causing damage to the leaf blade. This opens the plant to more stress and potentially death.
bioLawn loves our customers and
our customers love bioLawn

"I have used BioLawn for several years. They are very responsive to my inquires and flexible when I have needed them to be. I really appreciate the personal note left by the (same) technician after each visit as well. Highly recommend if you want to be thoughtful about your lawn applications."
Stacy P.
"Very pleased with bioLawn, their products, and their customer service. My lawn has never looked so good. Had been using one of the "BIG" commercial services previously, and they were terrible with regards to keeping their schedules and treating my lawn. Highly recommend bioLawn."
Steve H.
"Excellent company! I switched over fom Trugreen and my lawn has never looked better. I would have never thought eco friendly treatments could work so well."
Brandon A.
"Very pleased with the aeration done on my property. Joshua Amundsen was very attentive to the areas that needed special attention. Looking forward to doing business next year with BioLawn."
Alice M.
"I've put off calling BioLawn for years saying 'I could do it myself' while admiring our neighbors' lawn. Finally, after buying myriads of products and never getting myself on the right schedule, I made the call. Our lawn has never looked better, honestly I never thought it could be so lush and inviting. And… it's just such a pleasure to take this task off my list! Company has been very helpful, responsive and reliable."
Karen A.
"Niles from bioLawn gave us outstanding service. He spread fertilizer and sprayed for weeds every 4-5 weeks like clockwork. He was very professional, answered all our questions, and educated us about lawn care during our current drought. Our lawn has never looked so good."
Ian L.